Forest Bathing and Campfire Circle
Join Tansy in the Wild for a unique forest bathing session and campfire circle at Badgells Wood campsite.
20 May 2023
10am
£35
Meopham
Located in the village of Meopham, and sitting alongside the Pilgrim's Way in the Kent Downs AONB, Badgells Wood boasts an off-grid campsite and nature-based activity hub. Here they offer a variety of workshops and experiences all about getting back to the simplicity of nature.
Tansy in the Wild is delighted to be offering some Forest Bathing Workshops at Badgells Wood with the use of their beautiful base camp circle that has a striking parachute shelter. A space where we can relax at the end of the workshop around a fire with a hot drink and snack to reflect on our experience and settle even further into a sense of peace and contentment.
£35 per person inc refreshments
The name Forest Bathing is a translation of the Japanese term 'Shinrin Yoku' which literally means Forest Bath. the meaning of this is to bathe in the atmosphere of the Forest and does not refer to any physical kind of swimming or bathing.
The Japanese began Forest bathing back in the 80s and today there are Forest Bathing Guides all over the world guiding people back into Nature to find peace, deep relaxation, connection and meaning. The practice has now been subject to a vast amount of research and has been scientifically proven to be an effective support for mental health illness and physical/emotional health and wellbeing too.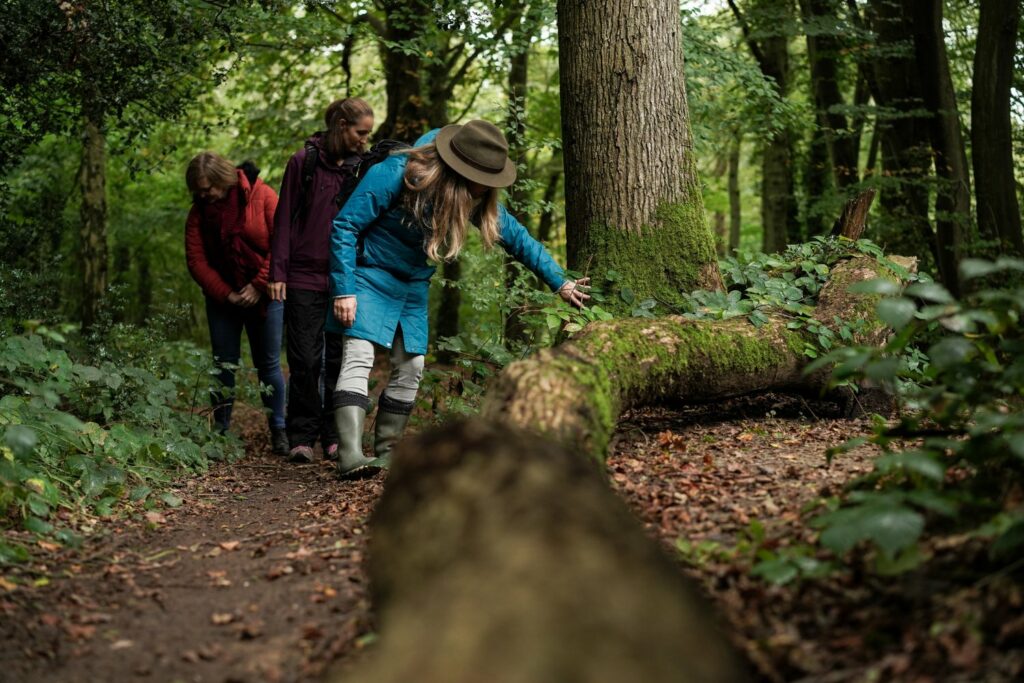 ABOUT BADGELLS CAMPSITE
Forest Bathing workshops are open to both campsite visitors and the general public so you don't have to book a pitch there but I highly recommend it if you would like to escape for the whole weekend.
Badgells Wood are on a mission to inspire a love of the woods. They've created an experience as close to wild camping as possible. A chance to immerse yourselves in our beautiful ancient woodland and allow nature, and the magic of the campfire, to send you home feeling healthy, energised and relaxed.
A stay at Badgells Wood is a chance to disconnect from the everyday and reconnect with nature, with others and with yourself. A place for creating lasting memories with your loved ones.
FOREST BATHING – WHAT TO EXPECT
In a forest bathing session, you will be invited to connect with Nature through a variety of simple exercises or reflections. This usually involves participants spending time quietly sitting or standing and observing the environment around them. As the guide, I share the principles and insights of the practice and invite you to try simple sensory exercises. The forest is very much the therapist and what people see, feel, and experience is unique to the individual. Some exercises are quiet and introspective whilst others are more fun and playful.
There are opportunities to share insights and observations but this is not expected or forced. I also hold a tea ceremony at the end with some healthy snacks.
Places are limited as group sizes are kept small. Badgells Wood is very flat and the distance covered is short because the focus is on slowing down and paying attention. This makes it suitable for all ages and fitness levels. No previous experience in mindfulness or forest bathing is required. All are welcome.
Badgells wood has parking facilities and compost toilets and upon booking you will receive an email with full details ontimes, location, meeting point and what to bring etc.
SCHEDULE
9:45am – Meet by the reception at Badgells Wood Campsite
10:00am – Workshop begins with welcome & intro
10:15am – We set off on the Forest Bathing Walk
11:45am –  Return to basecamp for a campfire with refreshments and time for rest and reflection .
12:30pm – Close
WHAT TO WEAR AND BRING
Sensible comfortable clothes and supportive shoes
Waterproof jacket advisable in case of light showers
Water to stay hydrated
I will provide some snacks but you are welcome to bring additional
I provide a waterproof sit mat
In every Forest Bathing workshop, I have held, I am always deeply grateful to see a look of peace and contentment on the faces of the participants as they leave the forest. In our fast-paced lives, we rarely get the chance to find this kind of tranquillity and connection and it can be a very moving and comforting experience.
Map is loading...