An Evening with Patience Agbabi
Award-winning poet Patience Agbabi presents a spell-binding event which links both Canterbury's pilgrim past and tales of today's refugees.
5pm - 6:30pm
£8
Canterbury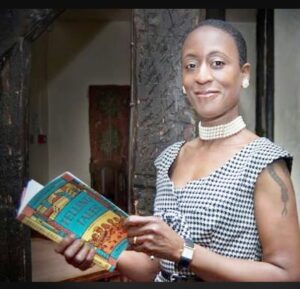 Patience Agbabi
Patience was born in London in 1965 to Nigerian parents, and spent her teenage years living in North Wales. She was educated at Oxford University and has appeared at numerous diverse venues in the UK and abroad.
Primarily a solo performer, Patience Agbabi has read repeatedly at key literature festivals in the UK including the Edinburgh Book Festival and Ledbury Poetry Festival, and music festivals including Glastonbury Festival and Soho Jazz Festival. She has also worked extensively for the British Council, delivering her work in a range of venues from university lecture theatres to a metro station, in countries including Namibia, 1999, the Czech Republic, 2000, Zimbabwe and Germany, 2001, and Switzerland, 2002.
Patience Agbabi lives in Gravesend, Kent, and was lecturer in Creative Writing at the University of Kent at Canterbury 2004-2005. In 2004 she was named as one of the Poetry Society's 'Next Generation' poets. Her collection, Telling Tales, written during her time as Canterbury Poet Laureate, was published by Canongate in 2014 and was shortlisted for The Poetry Society's Ted Hughes Award for New Work in Poetry the same year. In 2017 she was elected a Fellow of the Royal Society of Literature. The Infinite, published in 2020, is her first novel for children.
In Telling Tales award-winning poet Patience Agbabi presents an inspired 21st-century remix of Chaucer's Canterbury Tales in her own critically acclaimed poetic style .Patience Agbabi's Telling Tales is a brilliant, virtuosic take on Chaucer's Canterbury Tales as spoken by a dazzling list of contemporary characters in a variety of contemporary idioms. Her use of received and improvised form is masterly, a great entertainment in itself, her wit and sense of poise remarkable.
Refugees can be called the pilgrims of today. Refugee Tales by Anna Pincus and David Herd, who will also give a reading, is a compilation of stories shedding light on those who are branded 'refugee' and on the dehumanizing situations they are forced to face. Patience Agbabi's The Refugee Tales is an compelling poem of Farida's life as a refugee. Rather than writing as a simple story or narrative, she has made it a crown of sonnets, as a way to make it more engaging in a way of changing the typical sentence structures. The author is able to formulate the story of the speaker's life and experiences into a poetic, hard-hitting tale. By making it unlike the others, Agbabi draw in the audience in a unique way.
Supported by the Confraternity of Pilgrims to Rome and Canterbury City Council.
Map is loading...